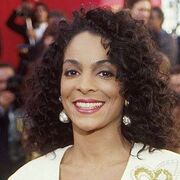 Jasmine Guy (born March 10, 1962) is an american actress, singer, director, and dancer. She is best Known for voicing Whitley Gilbert In A Different World. She Voiced Sawyer In Cats Don't Dance.
Jasmine Guy instantly evokes her unforgettable character Whitley Gilbert, the slightly snobby Southern college girl from the 1980's sitcom, "A Different World." But take one look at her resume and your first thought is, how can one person do all this? She occasionally directed "A Different World," starred in the Eddie Murphy film, "Harlem Nights" and "America's Dream" with Wesley Snipes on stage. She's been in revivals of "Chicago," "Grease," and "The Wiz" on Broadway. She co-wrote a book with Afeni Shakur, the former Black Panther and mother of rapper Tupac Shakur. And she's just completed directing and choreographing the revival of "For Colored Girls Who Have Considered Suicide When the Rainbow Is Enuf" in Atlanta. Jasmine Guy gives a lot of time to philanthropic organizations as well and she's a mother.
Later this week, she will be here in Washington, D.C. for the Harlem Renaissance Festival to headline a special tribute to Langston Hughes alongside Blair Underwood and Isaiah Washington. She does not get here until Friday, so we catch up with her today from her hometown in Atlanta.